Allcock Laight & Westwood
In 1854 Samuel Allcock,and Charles Laight of Redditch,England,launched this buisness with premises on King Street,Toronto Ontario Canada.
In the three-quarters of a century that have since elapsed (1929) they have been variously located at the corner of Younge and Wellington,then on Bay Street,and later on King Street,until they arrived at the present Sportsmen Headquarters,230 Bay Street,next to the Toronto Stock Exchange.
Sixty years ago,Mr. Westwood came to Toronto from Redditch to manage the company,eventually becoming a partner;and in 1898 the business was incorporated under it's present name Allcock,Laight&Westwood Co.
In 1919,the company was acquired by it's present directors,J.B.Kennedy and John Mossop,who had been connected with it for many years previously.
Also in around the 1927 time period of this company,AL&W was manufacturing lures for the Creek Chub Bait Co. from Garrett,Indiana.AL&W actually began manufacturing their own tackle in Canada in 1925.The production of Creek Chub Baits carried right into the closing period of this company.A AL&W 1929 catalog shows 21 Creek Chub baits produced.AL&W used a different set of numbers to market the lures ,different from Creek Chub Bait sold numbers.
A 1951 AL&W catalog shows the manufacturing plant and head office at 206 Parkhurst Blvd. Leaside Ontario.This is just a short history of this great Ontario fishing tackle producer.
More AL&W Pictures click: AL&W TACKLE
VINTAGE AL&W NATURE LURE BOX AND RARE PIKIE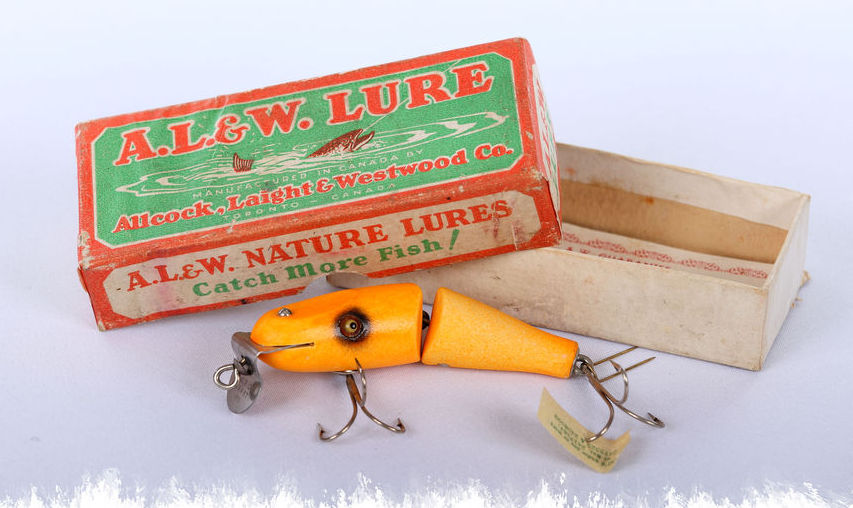 GROUP OF AL&W VARIOUS BOXES AND LURES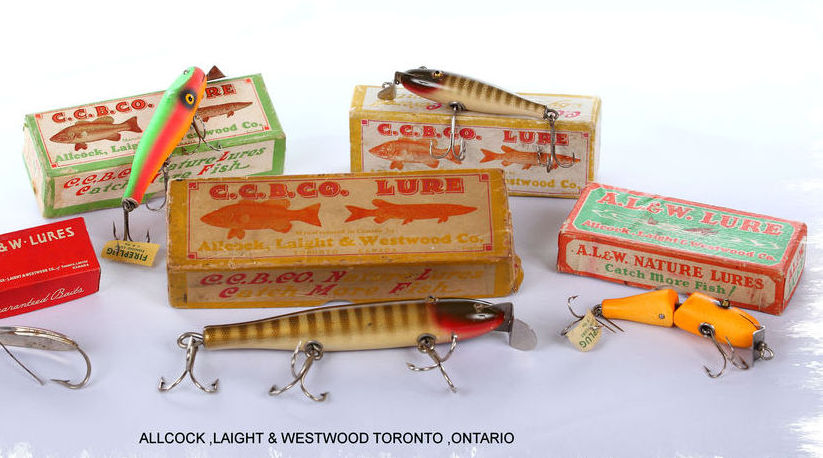 ---