Better-Luck Baits
Better-Luck Baits were manufactured by the Lucky Strike Bait Works in Peterborough Ontario.I decided to have a seperate section to show the quality and many styles,colours and versions that were produced.The Better-Luck line of lures were produced by Lucky Strike in the 1930's.Sources indicate 1937-1940.The quality of lures were maintained to Lucky Strike standards and the variety offered was amazing.
Lucky Strike Bait works were a company that believed in always marketing a new line of lures or products.Through the course of Lucky Stikes history each new lure invention, always seem to have a lure box to match it.I would say no other lure company ever matched the quality of lure boxes and variety made available.This makes collecting Lucky Strike lures and boxes always interesting and exciting.
This section will allow the public to view Better-Luck Baits and identify the stlyes available.Unlike other Lucky Strike lures ,the Better-Luck lures would see some stamped lips and many not stamped..Most were plain but had a distinctive style.Enjoy this detailed section.
One other note of interest.The Game Fish Lure line sold by Canada Needle & Tackle was a Better-Luck product.This was verified by Bill Edgar.If you compare lure boxes you'll find the same fish logo's and border and box green rather than orange in colour.
More BETTER LUCK Pictures click: BETTER LUCK TACKLE
BETTER LUCK BOX STYLES: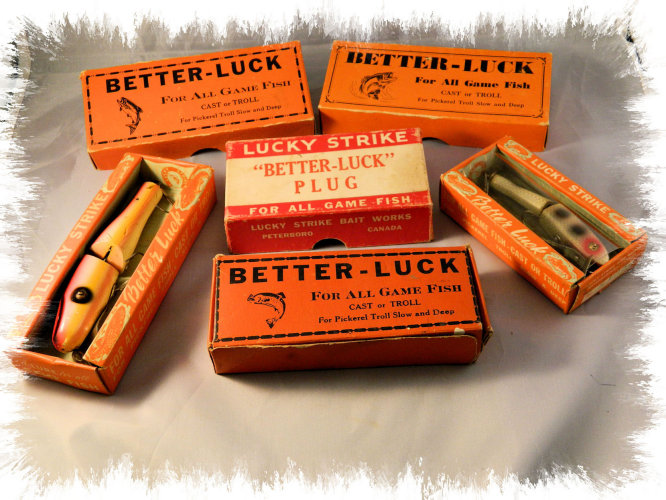 ---