Frank E. Burdett
Francis "Frank" Burdett Jr. was born in Hamilton in 1875 and was the son of an English father Francis,and a an Irish mother,Marie Burdett.In the 1880's,father Francis and Franks brother Joseph were both earning a living as "brush manufactures " in Hamilton,Ontario.By 1892,Frank had moved to the area known as Muskoka , and was living in Gravenhurst,Ontario working as a machinist.This was (and still is) an area known throughout North America for it's varied and superb fishing.
Frank came up with an idea for a metal trolling lure that he thought was a big improvement over previous lures on the market..His idea was for a flat,two sided metal lure (shaped like a minnow) seperated by empty space between and held together by soldered metal struts. or 'wings'.Burdett was convinced that the fins sticking out from the sides of the other lures were an obstruction for fish when they trie to bite it.Instead,his lure was smooth-sided,so fish slid down the lure when biting it,causing a solid hook-set.To make up for lack of stabilizing fins,he used metal wings to hold the two sides together,which caused the rotation of the lure when water poured over them.
Burdett patented his lure in Canada in 1903(#CA 81017) and in the USA in 1904.It appears he sold his invention to the large American tackle maker Hendryx of Hartford,Conneticut,who widely marketed his lure.Hendryx also kept the name of the lure,selling it as the "Burdett Bait".It also appeared in a 1915 WM Croft& Sons,Toronto catalogue.The four inch long lure,with 2/0 hook,was made in both copper and nickle plate.There have also been a couple of rare brass lures found in 6 inch length.
Researched by Ken Kerr.
BURDETT BAIT (5" GLASS EYE MODEL)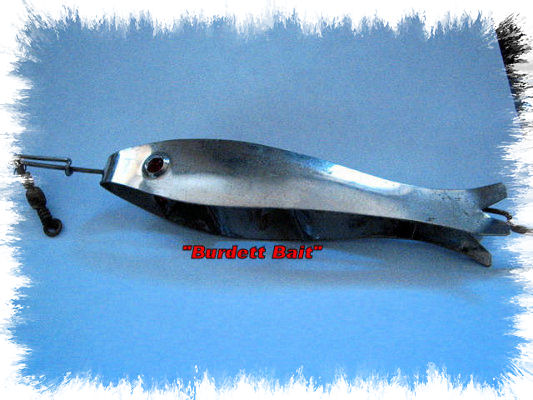 BURDETT BAITS STYLES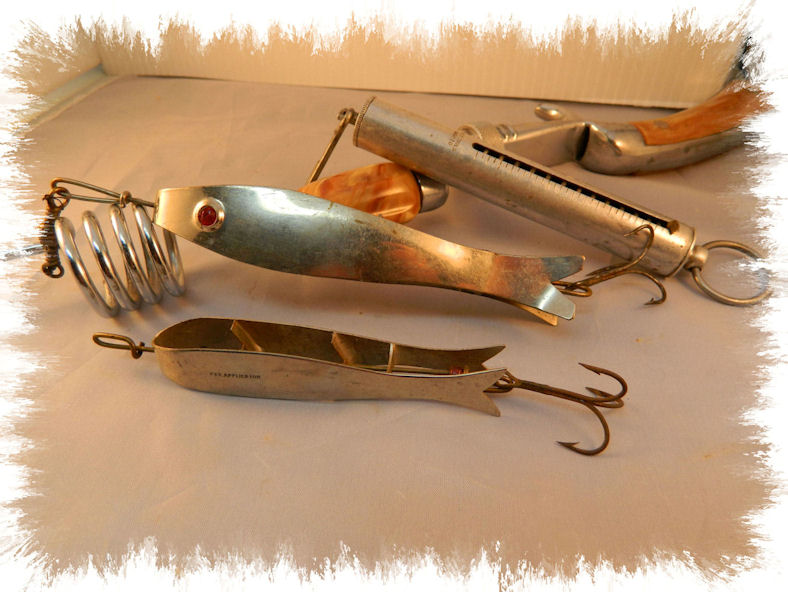 ---