Busty Baits...Busty Flesher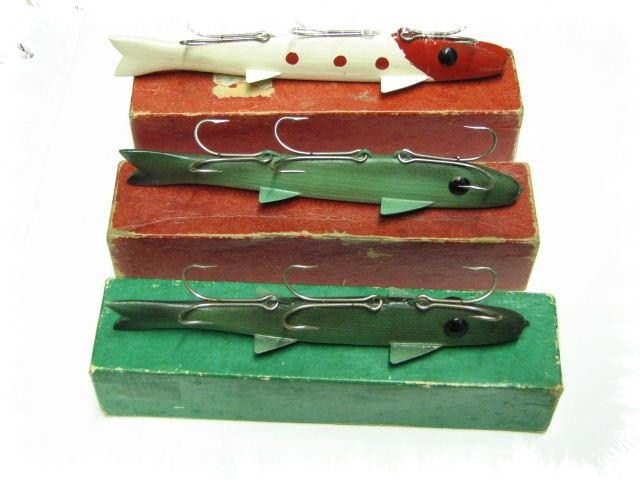 More Busty Bait Pictures click: Busty Baits
Company history by Patrick Daradick:
William Stanley (Busty) Flesher,Parry Sound
Born August 29,1890 in the district of Parry Sound,Ontario Canada.He came from quite a distinguished pioneer family.
Grandfather,William Kingston Flesher of England founded Flesherton,Ontario 1853(Grey County).Built and ran the first saw mill,and gristmill.Reeve of Flesherton 1853-1867,Warden of Grey County 1855-1867 elected Member of Parliment 1872-1876.
John Flesher,second eldest son of W.K. and one of six children married and moved to Parry Sound district where "Busty" was one of seven children.
In approximately 1902,John Flesher was sent to New Zealand to build the first sawmill for Massey-Waters,a major lumber company."Stan" as he was called,was approximately 12 years of age at the time his father left,never to return to Canada.His mother died approximately two years later,so within a short time,Stan was on his own,making his way doing a variety of jobs from fishing,boat livery,logging,lumber camps and part-time guide.During the next 20 years,he would guide for many distinguished out-of-town clientele.
Stan had interest in other sports such as curling,speed skating and barrel jumping and was a pretty fair hockey player.He was scouted by the Toronto Maple Leafs and this is from whence came the name "BUSTY".His defenceman abilities got him labeled "Buster" and "Bust-Up" so the crowd hung a handle on him and it stuck.But World War l would end his budding hockey career.
Throughout those early years,he had become a craftsman,a"Jack-of-all-trades" so to speak.Busty built and repaired wooden boats,carved axe handles,baseball bats,forged shovels,crafted snow shoes,decoys,fishing tackle,did a little clock repair and locksmithing,carpentry and mechanics---He could do it all.But Busty was widely known for his fishing,hunting and trapping skills.Because of his marksmanship skills,he was often asked to "site" a variety of guns before hunting season.He had quite a reputation in the area.he was a bit "gruff" in manner but had a great sense of humour.Everyone knew and liked him.Busty was reliable,a bit of a perfectionist,well liked and respected,but you had to catch him when he didn't have a line in the water.
Busty enlisted in the army(the Canadian Expeditionary Force) during World War 1 in Toronto,Ontario ,April 23,1918.He was a great marksman with a rifle,but they called them "sharp shooters".He served in France and Belgium where he was injured by shrapnel,sent home for discharge in Toronto,April 11,1919.
Busty had taken up Commercial Fishing working with friends but in 1921,he recieved his own Gill Net License to commercially fish the public waters of Georgian Bay from the Limestone Islands to Head Island in his own boat.
Busty married Evelyn Alice Holbourn,January 1,1930.Eve and her two brothers often fished with Busty,staying at fish camps they put up at various locations,where they cleaned,boxed and packed in ice their catches of Herring,Chub,Whitefish,Pickerel,Lake Trout and Sturgeon.
Busty held his Gill net license from 1921-1938 when his boat burned.He continued to fish for others but the industry was waning,so he went to work building roads up towards Calender where he was struck by a car that broke his back.It took better than a year flat on his back before he walked again.
Busty and Eve had four children between 1932-1942,Gereald and John,two sons (now deceased) and two Daughters,betty Lou and Patsey Ann(now living in southern ,Ontario).
After his recuperation,Busty went to work for the Department of Transport,where he tended and stocked lighthouses,painted and repaired buoys,and as he got older,he became a night watchman where the night provided an opportunity to create and invent a number of gadgets and things.He retained that job until retirement in 1955.During that time,Busty had his own shoal named after him located in the outer harbour of Parry Sound."Busty's Shoal" with it's very own buoy and light and was officially placed on the nautical charts.
Throughout his life,he hunted and fished.He had been making his own lures,flies,spoons and sinkers from a very early age,but the concept for "Busty's Bait" would have been born in the early Thirties.His daughter still has the first bait sold in 1941 to a longtime friend for fishing at Shawanaga bay,north of town.That bait sold for $4.50 and caught 27 fish in one day.It was an early version of the green bait.There are other earlier versions,templates and other memorabilia in the daughters's possession.
Busty wrote to the Commissioners of Patents and Copyrights in Ottawa on February 1,1945 to inquire as to procedure of obtaining a patent for his bait.He was issued the patent approximately 1947(exact date is unavailable).
Busty produced his baits by hand in his basement for over twenty years.They were made of white cedar,hand carved and sanded,fins hand-cut,lead weights poured,steel pins and hooks applied after chosen colour of paint had been patiently applied.The colour was either green or red & white,sizes 4,4 1/2,5,5 1/2,6,6 1/2,7 inches in length.They were packed in red or green boxes with an instruction sheet neatly folded inside.
The word had spread long before now and it was difficult keeping up with the demand.Aside from the personal sales from home,Busty had his baits in the local hardware stores and in other towns in Ontario as well as U.S.A.Some found their way west and east into other provinces.
The last recorded sale available was to WM. Beatty Company local and general store,shortly before his death on August,1967 at age 77.
Busty Flesher is survived by several grandchildren and daughters.Living with their treasures and treasured memories of a simple down-to-earth-man,a caring father,a hard working family man with a passion for the outdoors.Busty was a true naturalist and somewhat of a legend in his time.
---