Colmer Baits
In 1931 Clifford "Kip" Colmer designed and invented the "Magnetic Minnow".Clifford better known as "Kip" to family and friends was born in Peterborough in 1906.The family resided at 497 Bolivar Ave. in Peterborough.After Clifford had finished his schooling,Cliff found employment in the 1930's at the Albion Knitting Co.A company well known for producing NHL hockey jerseys.The factory was located at the corners of Park and Murray Streets.Cliff's trade was maintenance and machinery.He also supervised operations at this facility.
Clifford was a very accomplished woodworker.He had a workshop set up in his basement at 497 Bolivar and this is where he would invent his Magnetic Minnow.His lures were of the highest quality and workmanship.The wooden lures had glass eyes and a metal lip with the words,"Colmer Rd 1931 Made In Canada," stamped into them.Cliff registered his lure with the Industrial Design Office January 7.1931,registration #9033.Kip an avid fisherman would also test his new lures on local water to see if they really did "attract all fish" as the box stated.His catches proved his lure was a winner and soon he was producing them for local sales and friends. The lure business never really flourished and Kip was soon devoting his time to making wooden lamps and working on his wooden boat.
In the 1950's Kip moved to 554 Bolivar Street,a house he and his brother,Rolle,purchased together.Cliff resided in the lower portion with his wife Helen (nee Lillico) while his brother.Rolle,and family lived in the upper portion.Cliff maintained a workshop in his basement for his woodworking projects.
Colmer baits are a fine addition to a collection.The pikie style wooden baits seem to be easier to locate.But the crab style Colmers are very scarce.To date all lures found in collection have glass eyes and the metal lip with the Colmer stamping.The lure box shown however is the only one to have survived the times.A lure produced for very short time and in very low numbers would have a decent value.
COLMER STYLE BAITS AND RARE COLMER BOX
COLMER CRAB BAIT AND RARE COLMER BOX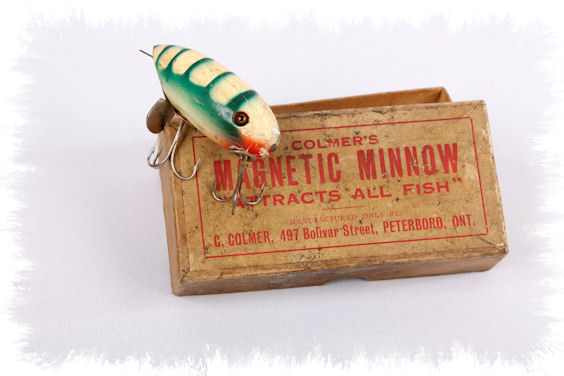 KIP COLMER & BAITS AND RARE COLMER BOX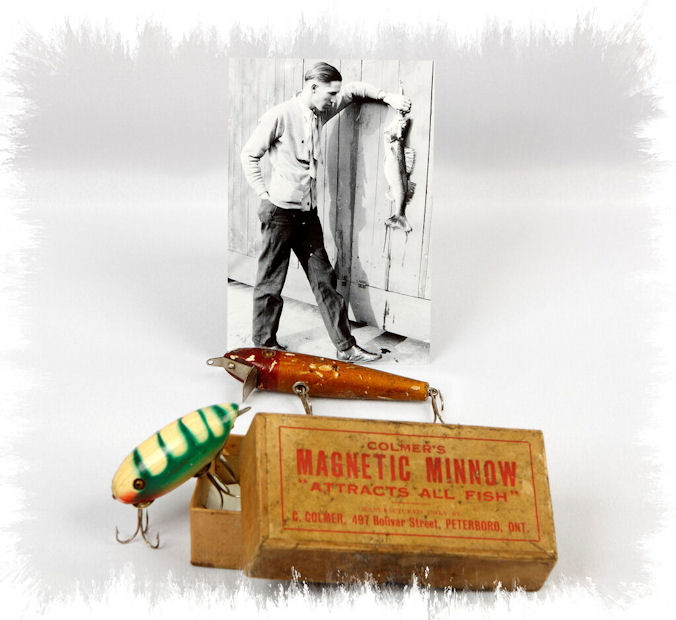 COLMER LIP STAMPING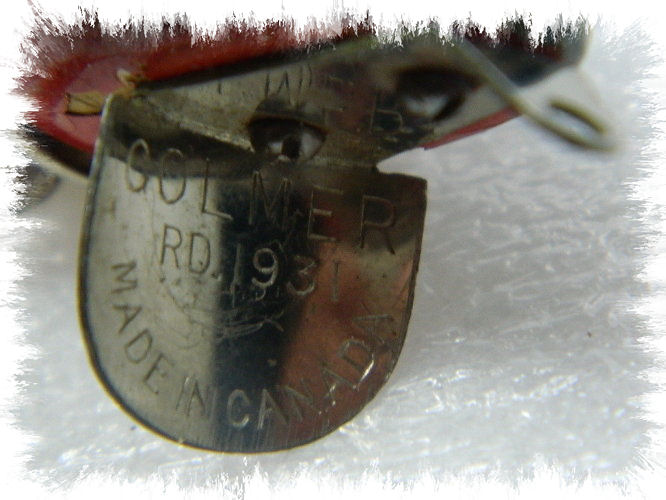 ---