Wm. Croft&Sons
Wm.Croft & Sons of Toronto,Canada were established in 1855. William Croft started the original company called W. Croft & Co. at 82 King Street East Toronto, Ontario. W.Croft& Co. moved to 115 King Street East in 1859. In 1879 son William Jr. joined the firm thus the name change to Wm. Croft & Sons. The next known location was 37 Colborne Street in 1889. Wm. Croft & Sons next known location was 53 Bay Street. Shortly after this they moved to 61-63 Front Street in 1904. After the well documented great Toronto fire of 1904, Wm. Croft & Sons business was destroyed by the blaze.The next location for the company was 126-132 Queen Street East noted on a 1906 company letterhead..The address in 1914 as seen on catalogue was 76-78 Wellington Street West.
Croft & Sons were manufacturers and importers of many goods as shown in their catalogues.They advertise on company letterheads "Archer Brand" needles and fishing tackle.Manufacturers and importers of fine fishing tackle,makers of flies.
The company trade marks can be viewed on the letterhead below.Croft & Sons were well known for their metal baits,that carried their stampings.They also carried many other tackle makers products.Including Delany Baits from Cobourg,Ontario.
One particular carded bait ,shown below,states "The Artificial Bait" W.B.S England ,then shows the archer trademark.WM.Croft & Sons Toronto ,Sole distributors for Canada.The lures are very collectible as they are found in many sizes and shapes.Lures found on original cards are very scarce and highly sought after.
WM. CROFT & SONS 1914 CATALOGUE AND LURES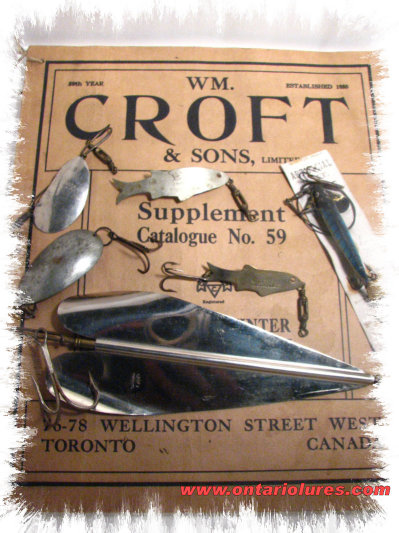 1906 WM. CROFT & SONS LETTERHEAD WITH TRADEMARKS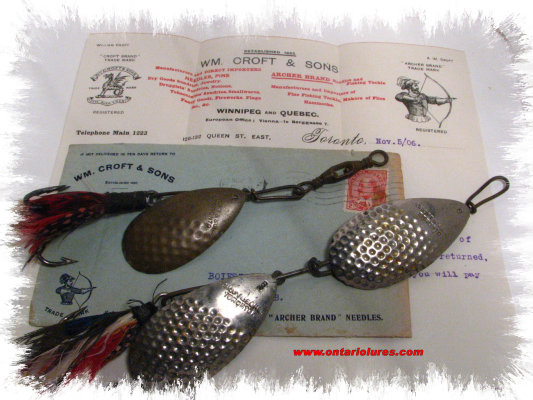 WM. CROFT CARDED LURE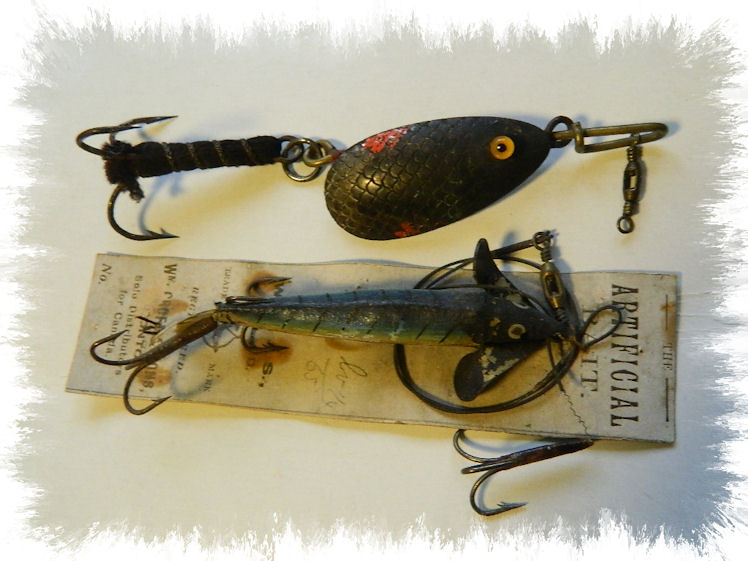 ---