Decoy Mfg. Co. (Dizzy Decoy)
Information from Frank R. Baron's Commercial Fish Decoys book.
The "Dizzy Decoy" was the brainchild of Charles R. Dailey,who moved from the United States to Brantford,Ontario Canada around 1950.He moved to Brantford located in southwestern Ontario with the specific purpose of starting a new machine shop business,which he named Bridgewater Machine.
Besides being a well-trained machinist with an inventive flair,Dailey also had a keen knack for marketing strategy,which served him well.Charles,Charlie to friends,was an ardent fisherman and soon found many new places to fish in Ontario.
Pleased with the Canadian ice fishing available,he was drawn to Lake Simcoe,where he enjoyed excellent results using a wooden fish decoy made by a local native Indian guide.The friendly guide gave Charlie one of his decoys as a gift.
Back home in Brantford,Charlie studied the rather crude homemade decoy,and his inventive thoughts soon turned to ways to make a better one.He wanted his decoy to look a lot better and still have effective fish-catching capabilities.He began a series of home workshop experiments to make a new and successful decoy.
The "Dizzy Decoy" name was given to the decoy by Charlie because of the very erratic movements in the water of his redesigned decoy.Convinced his new decoy was a real winner,he began to make small quantities for retail sales as a hobby business in his home workshop at 10 Edgewood Avenue in Brantford.Originally the company was known as the Decoy Mfg. Company,but later literature and logo show Dai-Lure "Hand Crafted Lures" at same address.
With his son Gordon at his side,Charlie made many weekend combination leisure and business trips to Lake Simcoe and Lake Nipissing.His productive catches of fish soon had other fisherman asking for the new decoy.The Dizzy Decoy business began to expand quite rapidly and unknown hundreds were made and sold in the 1950's and 1960's.
Charlie never stopped improving on the finish and durability of the decoy.He was a real stickler for quality workmanship because of his machinist background.This led to more durable paint and the use of stainless steel for the die-punched bottom located side fin base plate,with a down-standing steerable fin.The name and the address of Decoy Mfg. Co. were proudly stamped into the design with notation of "Patent Pending".The decoys were sold in individual clear plastic hinged-lid boxes.
Continuing to improve his product,Charlie started making Dizzy Decoys in several sizes from 4" to 7" and in many colour variations.He lathe-turned every one himself from selected imported American woods.Lead ballast was placed in the nose,making the decoy sink fast in the water,and its erratic swimming action was determined by the fishermans skill in jigging the decoy.
Some baits were experimentally made into casting and trolled models by installing a front-mounted screw eye instead of the top mounted jigging line tie.Although moderately succesful,best results were obtained from the original design.
Many of Charlie's later lathe-turned bodies were reinforced with carefully machined and fitted brass bands at both the head and tail.This eliminated possible splitting of the wood by large fish action,a feature thought necessary to accommodate the larger Coho salmon that had been introduced to Lake Ontario waters by that time.
Little is known of the first 35 years of Charlies life in the United States before he came to Canada.In a thumbnail historical sketch of the Decoy Mfg. Company,we can only follow the known Canadian path.Charles R. Dailey died in 1970 at the age of 70.Gordon his son did not wish to continue his father's fishing tackle buisness on his own because of other personal commitments,so he closed the buisness down permanently.
The author thanks Gordon Dailey and boating friend Garnet Shaver for their advice and information in preparing this brief Dizzy Decoy history.
CHARLIE DAILEY'S "DIZZY DECOY"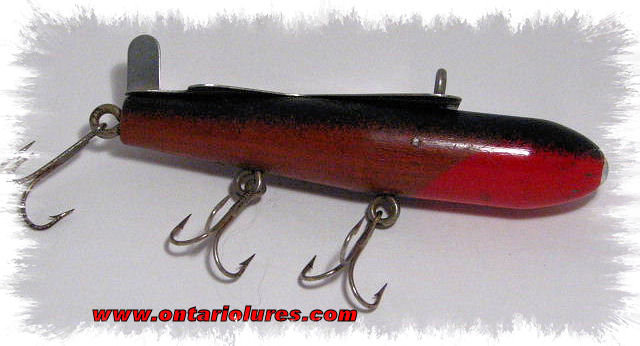 DIZZY DECOY: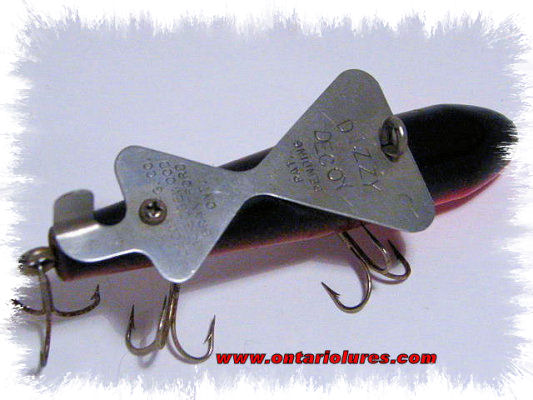 ---