Frederick's Fishing Tackle Works
Great story of a small town Campbellford ,Ontario doctor who made fishing tackle during the 1930's.
More Frederick's Lure Pictures click: Fredericks Lures
Following submitted by Jim Greenway (Thanks Jim)
Frederick's Fishing Tackle Works,Campbellford:
Little is known about this short lived,small industry that was located just a stone's throw from the Trent River in Campbellford,Ontario.In 2006 I was fortunate enough to interview the last remaining employee,Harry Cubitt,who was 94 years old at the time and still going strong today.
Frederick's Fishing Tackle Works produced what has become known today as "Campbellford Baits" and was founded by Doctor Ernest Victor Frederick in 1933.Dr.Frederick was born in Campbellford in 1880.He graduated from the University Of Toronto in 1906 and studied in London and Albany.In 1915 he joined the British Army Medical Corps.After serving overseas and contracting malaria he was sent home.
E.V.Frederick had a true entrepreneurial spirit and was full of ideas.Although he began the tackle business at the age of 53,he had also started various other businesses in his time such as pottery making and canoe building.The fishing tackle business was siutated on the second floor of a brick building located at the north-east corner of Queen and Bridge Streets.Along with himself,Dr.Frederick employed four local men;namely Harry Cubitt Sr.Harry Cubitt Jr. Max(Nip)Lloyd and Don Frederick(not related).
The wooden bodies were held by a jig while a hole was drilled for the belly hook.HarryCubitt Sr.made various box trays that used pegs to position the baits on the belly holes for the simple dip painting procedure.These trays were very odd looking to enable the proper angles for dipping the wooden lure bodies.the employees wore flour sacks over their head,with eye cut-outs so they could apply the finishing lacquer and gold dust.Harry didn't last too long at this task as the fumes created health problems.The majority of the wooden baits had painted eyes.The glass eye models were the last style manufactured from this company and the eyes have similar resemblence to Pepper Bait Co.glass eyes.
One very distinct feature that sets Fredericks Works baits apart from other style wooden plugs is the large "plastic" lip used on many styles of his wooden inventions.If you have a wooden bait in your hand and it shows a clear plastic lip then odds are it was created by Frederick's bait Works ,Campbellford.
The wooden lures were set up on display cards,never individually boxed.Harry remembers taking 3 to 4 boxes of carded baits to the post office for shipping to Woolworth stores around the province and out west in Canada.Some baits went to Winnipeg Woolworth's store for further distribution.
One winter Harry and Max selected and cut limbs of red cedar on property sout-east of town owned by Frederick.The gathered limbs were then hauled back to town and stored in a shed behind the bait works.After drying the cedar for a few months they turned a bunch of wooden bodies and assembled several baits.However ,this experiment didn't work.Whne Harry tested these lures, they sank like stones.It is believed the Fredericks bait Works ceased operations somewhere between 1936 and 1939.
FREDERICKS BAIT WORKS WOODEN STRAIGHT VAMP STYLE PLUG.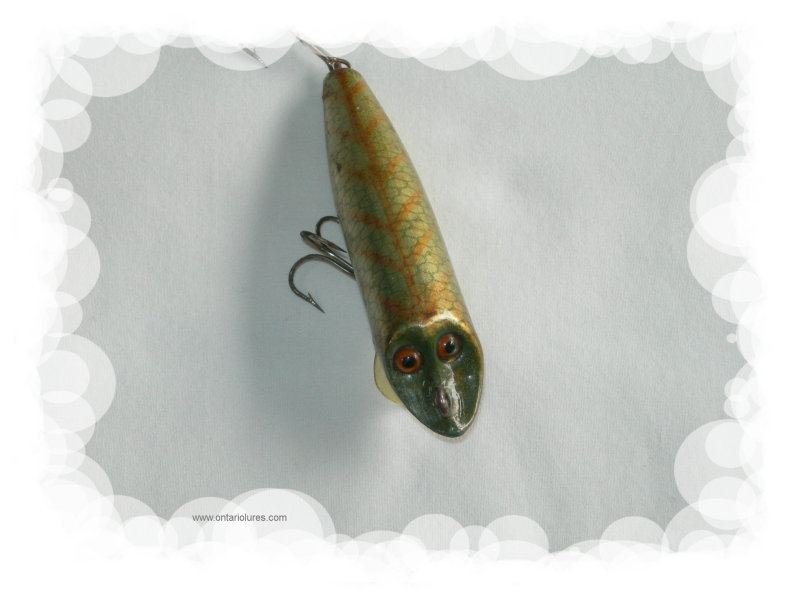 FREDERICKS JOINTED MODEL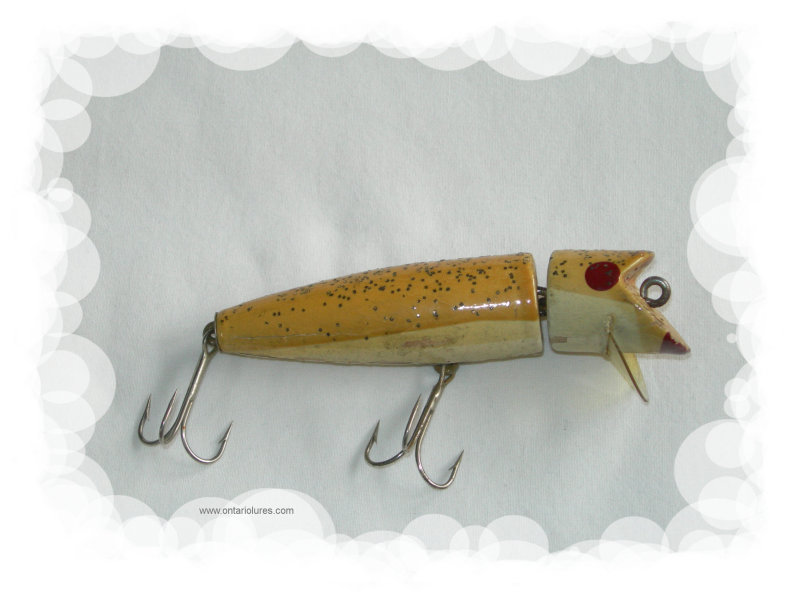 ---