The Old Wooden Bait Company
The Old Wooden Bait Co. was formed in the late 1970's by Rick and Carol Shepherd from Cobourg,Ontario.Rick was a noted carver and his passion for fishing muskie size wooden baits,inspired him to tinker with designing and making a wooden musky bait.Which he found difficult to find during this era in time.
The Old Wooden Bait Company transpired from a dream to an actual production assembly line in late 1979.Rick,Carol and friend Klaus Becker were producing wooden musky size lures that were similar in design to some previous famous well known musky baits.Heddon Giant Vamps,Creek Chub Husky Pikies and Giant Pikies.The inspiration from these famous lures were incorporated into the body and hardware styles used on their giant gems.The "Leviathans"the first lures produced in 1983 had body styles similar to the Giant Pikies.The company manufactured nine models of baits in 15 different colours.
The finish on their baits were a marketing feature.They soaked the sanded and shaped dowels in a sealer overnight and left them to dry to an almost glasslike sheen before applying the white enamel base.Then between 3 and 14 coats of paint and varnish were applied.The final sealer was applied after all hardware,eyes were attached totally sealing the lure.The famous snakeskin finish was created from a ladies dress lace template.The Shepherds made their own jigs and dies.Cut the brass hardware and made their own machinery with the help of their partner and friend Klaus.
The company was located originally in the basement of the old Cloverleaf Motel in Cobourg and later 3998 Walton Street in Cobourg.When demand in orders arised the company found it difficult to make and market their baits.The demand to keep pace with huge orders made it difficult to sustain the business any longer and in 1988-89 the company was sold to Floor Kromhout who only usued the jigs and dies.The dream was fullfilled but now the "Leviathan","Predators" and the "Tailwalkers" made by The Old Wooden Bait Co are just a part of Canadian tackle history.
OLD WOODEN BAIT COMPANY "PREDATOR" LURE AND BOX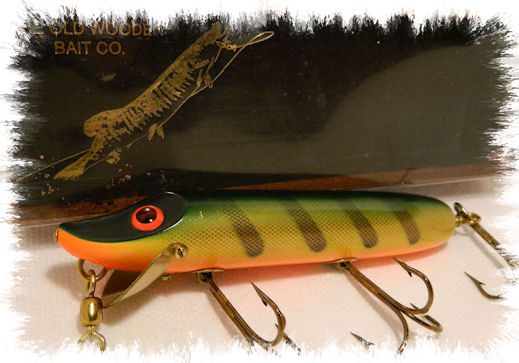 ---