South Bend Bait Co. Canada
Ivar Henning's,South Bend's prominent tackle manufacturer,said in a 1930's Canadian fishing magazine that he has yet to see a fisherman from the USA who does not have the ultimate dream of making a fishing expedition to Canadian waters. "To me it's easy to realize just why this should be,since I've made one or two annual trips up there for the past nine years.There is a certain fascinating aspect to planning these fishing trips to Canadian waters.This anticipation is equaled only by the actual realization of spending a week or two in some remote spot where public have not molested nature's sereneness."
Ivar Hennings fascination with Canadian waters and their excellent fishing convinced him of the importance of the Canadian fishing market.With this in mind,South Bend established a Canadian factory in Cobourg,Ontario.The general sales offices for South Bend Co. Canada Ltd. were located in the Coristine Building in Montreal.
A portion of the manufacturing was done at the Cobourg factory,along with a stock of rods,reels,lines and artifical baits,were available for immediate shipment to Canadian resorts and dealers.The advantages of this plan became apparent the first year the plant was in operation.Instead of waiting a week or two for shipments,the majority of orders were shipped in two or three days.
In researching South Bend's Cobourg plant it surprised me to learn that they actually utilized an existing Cobourg factory-the well known H.W.Cooey Machine and Arms Company-to manufacture,assemble and distribute their fishing tackle lines.Records dating back to 1929 indicate that,during the depression years,Cooey Arms took on contracts to assemble shotguns for Iver Johnson Arms&Cycle Works and to produce fishing reels for the South Bend Bait Co.
It's unclear how long this partnership prevailed or how long South Bend was related to Cobourg,Ontario.Fishing ads in Canadian magazines Rod&Gun seem to fade away by the late 1930's and indications suggest a five year relationship.
South Bend lure boxes or carded artificial baits from Cobourg would actually be the same colour and style as those distributed by South Bend ,Indiana.The only exception is the side of the lure boxes would indicate South Bend Bait Co. of Canada Ltd. Cobourg,Ontario.
South Bend Bait Co. from Indiana would later distribute their lures using two other Ontario companies.First would be the Harold D. MacPherson Corp. Ltd. located at 27 Wellington St. Toronto in the early 1950's.Later,in the late 1950's and early to mid 1960's,boxes were marked with the company name,Campbell Of Canada from Willowdale,Ontario.
South Bend items from Cobourg,Ontario are highly sought after by Canadian and American collectors,especially mint-condition boxed lures.The finds to date have been very limited and this would attribute to the short existence in Canada.
South Bend 1930's Catalouge/Boxed Cobourg Marked Box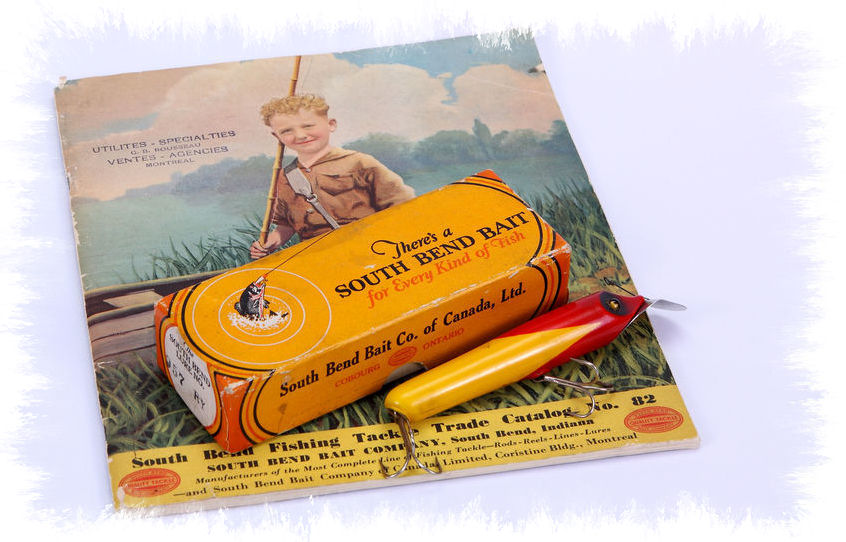 ---