The Williams Bait Co.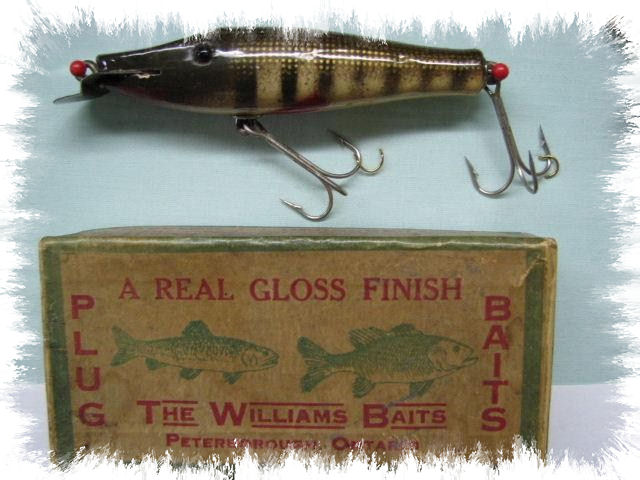 More Williams Baits Pictures click: Williams Baits
History of The Williams Baits Company by Patrick Daradick:
The Williams Baits Company,Peterborough,Ontario
The Williams Baits Company was a small operation run out of a basement by George Henry Charles Williams,founder and manufacturer of many styles of wooden baits and metal style trolling baits.Starting production in the 1930's.
George Williams was born in Peterborough Ontario,Canada Nov.28,1901.The son of John Booth Williams and mother Annie Smith.George had four brothers and two sisters;Alfred,Eddie,Bernard,May and Margaret.He attended school till grade eight.After leaving school he proceeded to gain a machinist trade.Travelling to the United States to earn experience and trade.While still living with his parents on Albert Street.The family later moved to Douglas Avenue.
After earning his machinist trade,Mr.Williams was employed at the Canadian General Electric Co. in Peterborough in the 1920's.On June 23,1930 George married Edith Alice Annie Wallwork,built a house on Douglas Avenue where they raised three children George,Ann and Betty.
In 1929 the depression started and George Williams and his father found themselves unemployed from General Electric.To keep income coming into the households they made various items from wood,like knitting needles,brackets etc.progressing to a decision to begin making wooden fishing lures,around 1931-1932.George Williams continued to seek other employment especially during the winter months as the demand for his tackle decreased until 1935.Travelling to the Oshawa and Windsor areas.
George had plenty of help from his family to manufacture and assemble his tackle when demand was high.Williams Baits moved his tackle into a store on George Street,Peterborough in the later 1930's.One half the building his tackle shop and other a Barber Shop.He always stocked a huge aray of tackle for the anglers.As found in a 1939 booklet Williams Baits advertised makers of plug baits,june bugs,trolls,wobblers and fishing tackle agents for Domestic,United States,England etc.
All or most of his dies for the metal lures were made in the basement of his Douglas Avenue residence.He used a coal furnace to heat,treat and harden the metal.The forms for his wooden plugs were made from hardwood blocks.All the wooden baits were made in his basement using a template mounted to his old wood lathe.The metal for his metal trolling baits came from Westclox Clock Co. as they sold scrap brass which he made all his early metal baits from.
His first metal bait was the popular June Bug.He made many styles of trolling baits and unless found on the original cards they would be hard to identify.None of his metal lures were stamped.The wooden baits are easier to identify as they had a similar hammered-out-lip,dark style glass eye(most with no pupil) and he also used a similar paint pattern on many of his lures.
Williams Baits never had any type of catalouge.One small advertisement was found in a 1939 booklet.Most of his lures were sold via word-of-mouth.He built his business up enough with the help of his father,brother and others to supply most of the tackle shops in the Rice Lake,Bewdley,Buckhorn and as far away as the Kingston and Lake Simcoe district.
George was an avid sportsman and tested his own lures in lakes around the Peterborough district-especially Little Lake and Otonabee River.He also enjoyed lake trout fishing to the north of Peterborough.
None of Williams Baits were patent.The early style of cards with metal baits-June Bugs etc.-would have the hole punched in the card or have the fish log image on them.Later the baits were stapled to the cards.There are several styles of lure boxes known.All the earlier cards or lure boxes would have the address 572 Douglas Avenue.Phone 3356-J.The address changed to 562 Douglas Ave in the 1940's.Not a new residence,they added new houses on Douglas Avenue and this changed the street numbers.This however does determine change from 1930's and 1940's baits.The phone numbers on cards or boxes were earliest 3356-J,9356-J then R.I 9356.
For some reason when a lure box is located,they are numbered and colour coded.All the cards and lure boxes were printed by Wallwork Press in Peterborough,run by a family member from the back of the house on Western Avenue.The boxes were made at random to ship lures and many varied in style,size and graphics and address.
The wooden plugs were made in a lot of styles & patterns.The glass eyes were mostly dark with no pupils and not used after 1941.The earliest plugs were standard red&white and later in the late 1930's he used various patterns and colour variations.Williams loved to spary a rib pattern with gold dots and gill belly.Plugs were made from 1931-1941 but stopped due to a shortage of hooks that came from England during these war years.Fishing tackle saw a slow down due to lack of materials during this period.
Williams could no longer make a living in the fishing tackle business and went on to gain employment in 1942 at the Outboard marine Company in Peterborough.He was still selling some June Bugs until 1950 and made some small spinners and flies for friends and for his fishing trips.
I found this a very interesting small time company and quite a story of a fine gentleman and sportsman.This information should assist collectors in the background of "The Williams Baits Company".
---